28. October 2023 | 14:00 - 18:00
Halloween Kinder Rave
Halloween Kinder Rave
https://lobeblock.de/wp-content/uploads/2023/10/28.10-Kinderfest-web500x300.jpg
500
300
Lobe Block
https://lobeblock.de/wp-content/uploads/2023/10/28.10-Kinderfest-web500x300.jpg
Halloween Party in our neighborhood!
with Kinder Rave DJ set
General information
For the third time we have Kinder Rave party in Lobe. On 28th of October we celebrate Halloween, but in Mexican style. We advise to put on costumes and bring children along!
Lobe Canteen will be open from 10:00 for regular Brunch till the very end of the party. We offer snacks for children, popcorn, and many more!
During the event, there will also be a lot of fun like face painting, Halloween/Dia de los Muertos crafts, campfire. We prepare a special Mexican altar to celebrate all the souls that are no longer with us.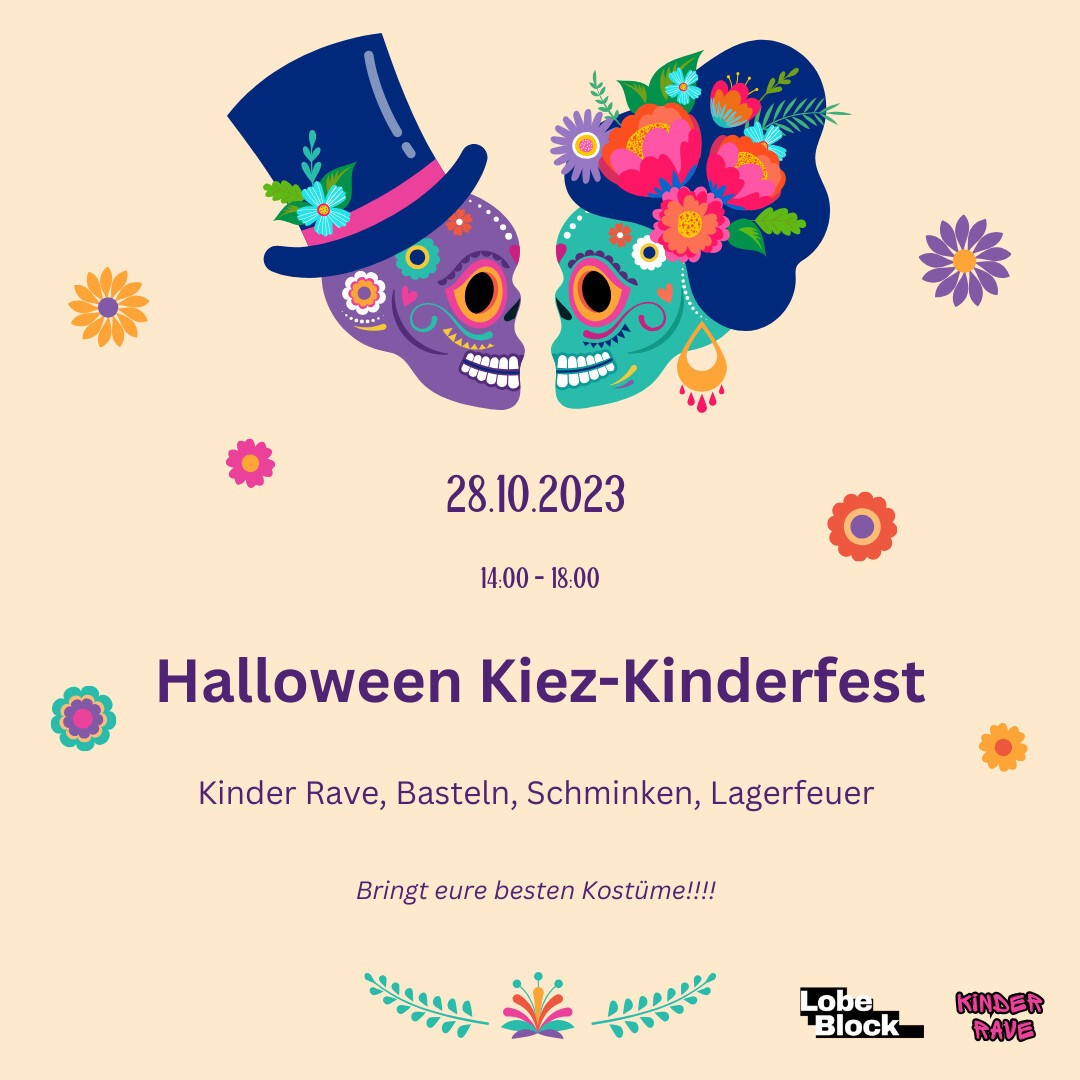 We're a fast-growing community of almost 1,100 parents in Berlin. What's a Kinder Rave? By that we mean first of all: techno for the whole family. We aim to create a safe, comfortable space with DJs, decorations, and cool music (primarily house/deep house, disco, and melodic techno), where parents can be themselves and kids can get their first introduction to Berlin's techno music culture. The Kinder Rave has been happening in various locations around Berlin since August 2022. We celebrate parent creativity in all of its forms: our organizations, artists, volunteers, and most of our DJs are all parents. In addition we strive to ensure that parents from all backgrounds will find a place with us where they can share their special talents with a welcoming and family-friendly community.
Links: