11. August 2023 | 18:00-21:00 PM
Flora | Fauna
Flora | Fauna
https://lobeblock.de/wp-content/uploads/2023/07/FF_6_Flyer.jpg
1080
1080
Lobe Block
https://lobeblock.de/wp-content/uploads/2023/07/FF_6_Flyer.jpg
Carolina del Pilar, Tahnee Godt, Johann C. Muños, Tsai Fu-Ho, Jana Kiesser, Caroline Corleone
On Saturday the 12th and Sunday the 13th, the exhibit in the Lobe Canteen garden will be free to the public.
The exhibition project with the focus on flora and fauna curated by Caroline Corleone aims at the intersection of artistic and ecopositive research for site-specific artworks. The group show will unite a diverse approach of ideas, statements, and visions. The terrain of Lobe Block offers an exciting play field for coexistence, for a new connectedness of ecological systems and being part of the urban surroundings. With six participating artists from diverse backgrounds and various disciplines we look forward to presenting new perspectives and art in an exceptional setting.
Opening Friday 11. 8.
18:00 – 21.00
The Lobe Canteen Bar will be open for drinks and there will be live music*.
Saturday 12. 8.
11.00 – 17.00
WORKSHOP 1:
GREEN CROCHETING
with artist Tsai Fu-Ho: crocheting a sponge using grass to make a 'wild dishwashing scrub' (sponge).
11:00-14:30 in the garden.
The Lobe Canteen will be open for refreshments.
30€ per person.
Jetzt einen Platz reservieren
Sunday 13.8.
10.00 – 18.00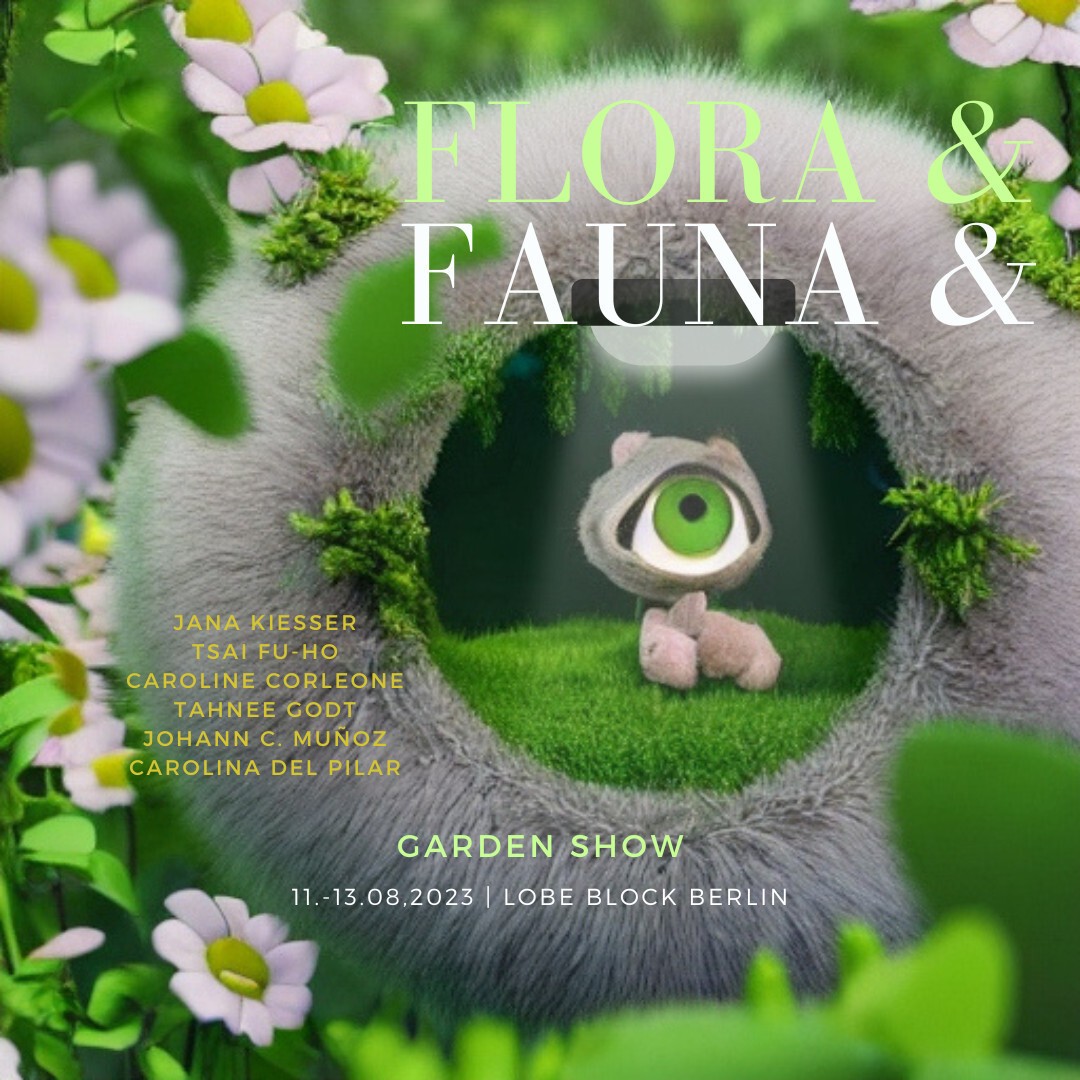 is a visual artist working at the intersection of painting, installation and more recently 3D programming techniques. She's combining materials such as pattern/fabrics and ready-made objects with specific painting strategies to create works that are hand-sewn
mixed media pieces or installations. Botany and cultural history serve her as inspiration and points of reference using historical or family archives as the foundation for ongoing research and new series.
For the Flora and Fauna exhibition at Lobe Block, I am currently working on three giant flowers- the Lobenia Grandiflora, Lobenia Longiflora and Lobenia Superba. Leftover parasols, sewn materials and painting transform into human-sized flowers that turn their heads to the sun on the rooftop (or terrace floor, garden).
is a visual artist with Colombian roots living in Berlin.
Her research and drawing process is reminiscent of an archaeologist who examines layer after layer to reveal information about the specific material. Her works are subtle in nature and offer a contemplative space that creates a dialogue between the viewer and the material.
The proposal I would like to present for the exhibition in the
garden of Lobe Block is an artificial object which subtly and poetically
seeks to capture the essence of nature appropriating or reappropriating the space in order to unfold.
It is an amorphous object that, at first sight evokes or reminds of an organic form and hides inside a colorful explosion of life: flowers trying to grow by breaking or deforming the lines of the threads of the fabric, from which capsules of earth are enveloped with flower seeds. With time they become a colorful carpet.
Tsai Fu-Ho
Born in Taipei, Taiwan and now lives in Berlin, Germany.
A few years ago, inspired by nature and its beauty, she began to think about the many possibilities of natural media, especially the inconspicuous ones. She is currently focusing on the relationship between humans and non-humans by reusing or recycling the materials of nature and life.
As an artist I am always looking for the possibility: how can I have a good (eco-friendly) cooperation with nature as part of the fauna. Grass is the main material of my artworks so far. With my grass crochet works I always have a strong feeling of being a part of nature. It is seasonal and long processing. There is no fast way to work on grass crochet, just like meditation. It makes me very happy and I want to share this experience with my viewers.
In this exhibition "Flora and Fauna" I will place the grass crochet containers on white stands in the wild garden.
I want to create a kind of contrast between the natural environ- ment and the man-made object. This idea symbolises the conflict between human intervention and nature, but not all intervention causes problems or harm. I'd like to use this contrast to encourage people to think about how they can live in harmony with nature and reduce their impact on the environment.
Tahnee Godt explores a contemporary concept of monumentality and the construction of memory through material. Defence on the one hand and vulnerability on the other hand correspond to a state of porosity – a permeable membrane. The ephemeral elements in these permanent materials stand for an ambivalence between fragility and eternity.
An organic web, bony, rigid and prickly, they form a fortress, palisades devoid of any function.
The materials of the individual elements have their origin in sand and earth and solidify from the shapeable original state into cold, solid bodies. Between origin and plasticity, the works refer to the fundamental process of life: a juxtaposition of the immanent in the material and the transcendent reality. The techniques that sculpted them – dug out forms, castings, assembled parts – suggest the interplay of absence and presence. Form and material create an archaic moment of the past and decay. Because both in the manufacturing process and in the condition itself, the memory lies in the material, a monument to the traces left in the material.
The work is made site specific for the Lobe Block.
lives and works as a freelance photographer & artist in Berlin.
After graduating from Ostkreuzschule für Fotografie in Berlin in 2018 she is currently studying Art in Context at UdK Berlin.
Jana Kiesser works with the archive of her grandmother Elisabeth,
artist and graphic designer (1936-2021). Elisabeth left more than 250 watercolors, sketches, clay sculptures and painted objects made of wood, silk scarves and illustrated books.
After her death, Jana found a close connection and similarity in her photographs and her grandmother's paintings. She began to combine the works and will continue to explore the connection between women, nature and art with this project.
For Lobe Block Jana Kießer presents a combination of poppy works – Rooftop Flag: poppy watercolour of Elisabeth Kießer, printed on flag fabric / Lobe garden: poppies photograph of Jana Kießer in the garden bed, printed on hard foam board
is a transdisciplinary practitioner from Bogotá, COL, whose work spans drawing, photography, sculpture, aural installations (esp., Noise), intersectional ethnomusicology, and pedagogy as social practice.
Muñoz aims to promote healing from historical trauma by articulating Historical Memory. Muñoz's work delves into how individuals and communities reconstruct their identities in the aftermath of mass-level traumatic events, mainly focusing on the Global South.
Muñoz especially harnesses the potentiality of Noise for its disruptive, unsettling, and disorienting nature to evoke "unforgetting."
Green Crocheting
Tsai Fu-Ho: chrocheting a sponge using grass to make a 'wild dishwashing scrub' (sponge)
Most of Fuhe's artwork is crocheted and her aim is to bring art to life. In this workshop, instead of making a piece of art, she will guide participants in crocheting an eco-friendly dishwashing scrub (sponge) that is both functional and beautiful.
Sound Garden Mark-Making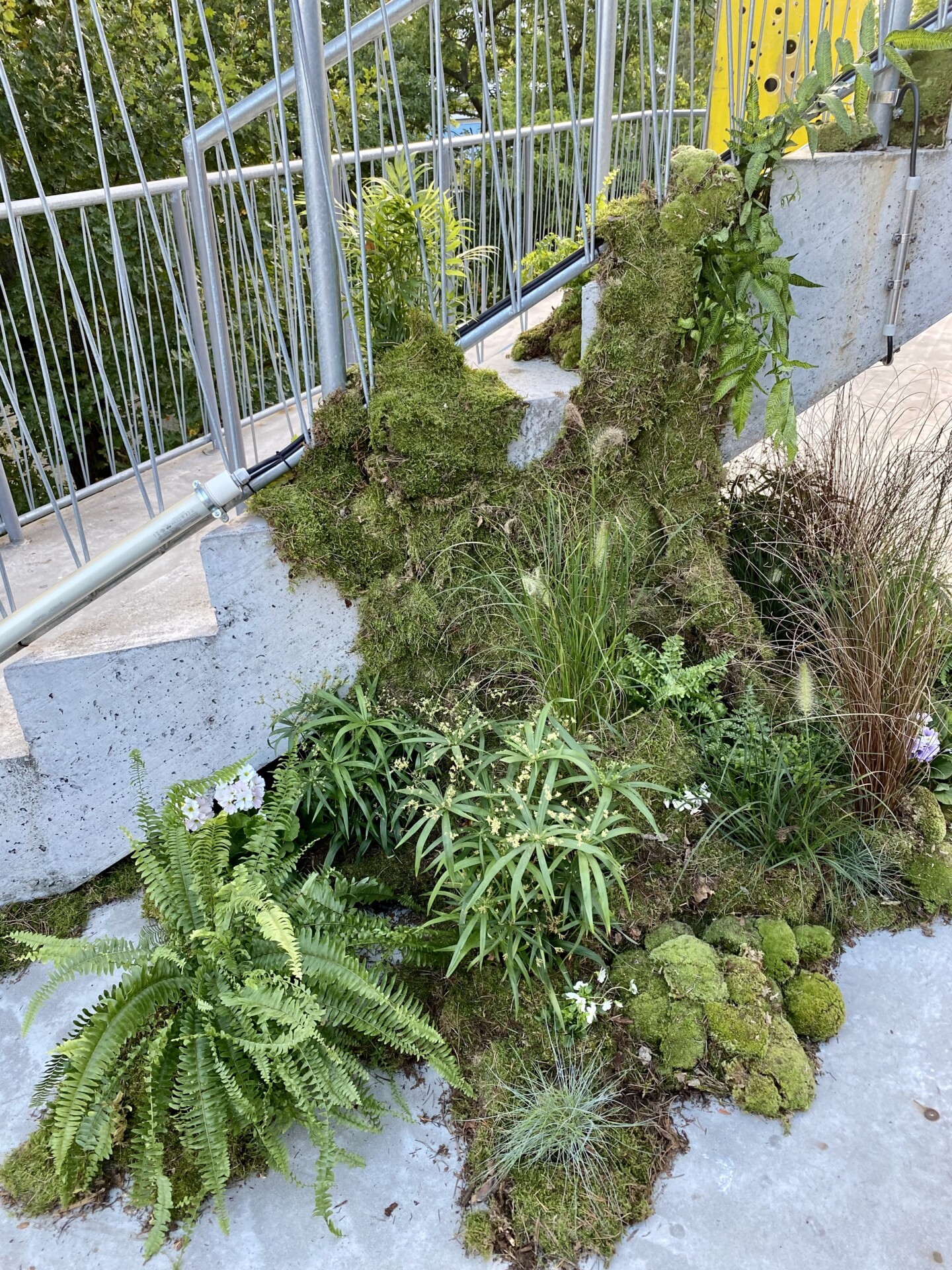 Johann C. Muños in Collaboration with Carolina del Pilar: sound/music as stimuli for drawing/mark making
This workshop presents a synesthetic [auditory/visual] approach to creating non-representational art. Participants in this workshop will make non-representational ink compositions, interpreting auditory stimuli produced by an accompanying musician (piano on the canteen) and amplified pre-recorded sounds from the garden.
Variations in composition, tonality, and mark-making will aim to describe a diversity of pitches, note durations, dynamics, tempos, timbres, textures, and musical structures. Non-representational art departs from the recognisable, summoning alternative realities and inventing a world where form precedes a subject and expressionism paves the way for the subconscious.
Participants will be able to develop technical abilities, accompanied by experimentation, using a limited palette and medium-format paper as primary materials. This workshop is open to all levels. No prior experience is required or expected. Participants will have the opportunity to talk about their experiences/artworks via an informal group critique at the end of the session.